Building Sustainably For Retail
The built world continues to make strides in developing sustainable building materials as well as reaching project-specific net-zero emissions. Admittedly, we're not seeing the same level of fastidiousness in retail as we are within ground-up construction — something we're pushing for at Hirsch Construction. While many of our retail partners like Eileen Fisher, Gucci, and Moncler are actively making adjustments to their supply-chains, energy sources, and general carbon footprints, many other retailers have yet to see the benefit of how green building can help their bottom line. 
Healthier materials result in fewer sick days, and less time away from work. Healthier materials typically require less maintenance and can help reduce overall operating costs. Generally, healthy materials and efficient equipment systems help the business's Triple Bottom Line (people, planet, profit). In fact, in a study called "The Cost of Green Revisited" published by the firm Davis Langdon, Inc, they found that green buildings cost a mere 2% more than non-green buildings. But, when conducting a life-cycle cost analysis, tenants and owners of green buildings typically see higher long-term cost savings.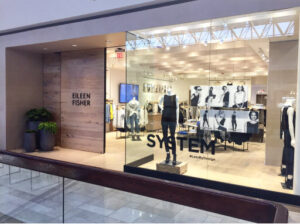 The material development happening within the industry, for example, insulation, concrete, and CLT continue to push boundaries but aren't necessarily helpful for our typical brick and mortar retailers. For those reasons, we at Hirsch have decided to outline healthy building materials we are opting for on our projects as a means of highlighting what we can do for new and existing retail and design partners moving forward. Ultimately, we believe we can help your triple bottom line by focusing on what makes your store, while you focus on what goes inside of it! 
What we're doing:
Limiting relationships with vendors who supply products with formaldehyde, high VOCs, BPA, and phthalates. 

Specifying formaldehyde-free particleboard, and cabinet interiors.

Bettering our recycling and general waste management protocols. 

Offsetting airline travel for those who continue to travel and scheduling Project Managers and Superintendents work around projects local to them. 

Complying with LEED standards for air quality control on-site, including but not limited to: dust prevention, and taping up open airways. 

Building relationships with non-toxic cleaning crews.
What you can do:
Use what's available – see if existing back of house plans and equipment, existing space layouts, HVAC systems, framing or restrooms can be used in your new space. 

Check that materials you specify don't contain chemicals that off-gas (paints, furniture, wall coverings, carpeting).

Limit or remove completely all materials with petrochemicals and resins instead, opting for terrazzo-like manufacturers like

icestone

. 

Design for easy deconstruction. Instead of glue, consider fasteners.

Partner with local green energy sources for your electricity. 

Maximize available daylight and install appropriate window treatments to both retain and emit heat when necessary. 

Use only LED lighting.