Hirsch Construction Corp.: Redefining the word 'Experience'
ex·​pe·​ri·​ence | noun:
practical knowledge, skill, or practice derived from direct observation of or participation in events or in a particular activity.
something personally encountered, undergone, or lived through.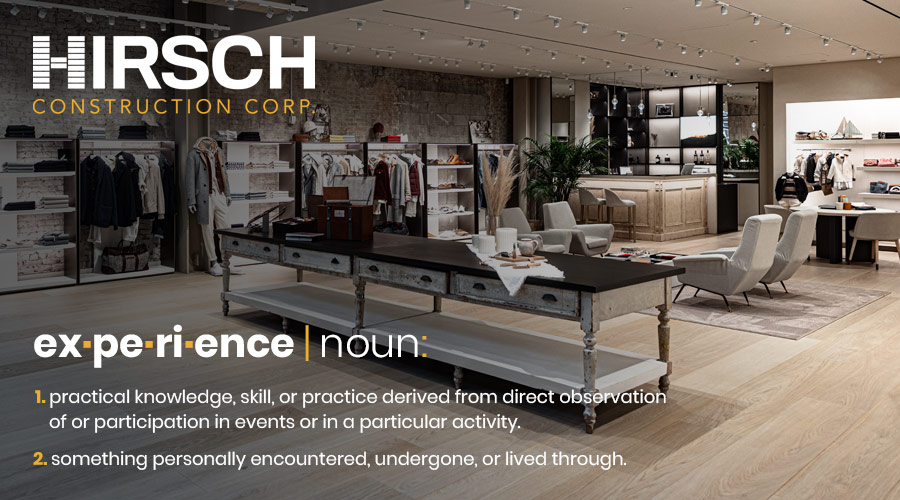 Either definition of the word experience is something we all seek. We typically search for the most skilled or qualified person for a solution, and as it relates to the second definition, it's a natural quest for human beings to look for meaningful engagements with other people, venture to new places, try new things, and have an authentic connection to our physical surroundings; even more so after the last two years. 
As a world class project management, construction, and planning services corporation for high-end brands, we know firsthand the significant role that the built environment plays in shaping how we live, work, and play. Now more than ever, consumers are ready to satisfy their need for creating memories through new experiences. We recognize that experiences are no longer a luxury, but an essential part of life. But this concept isn't new to us.
We've spent the last 40 years bringing to life some of the most exciting locations for the nation's best brands. Every project in our portfolio, whether it be a retail boutique, a hotel, a salon, or a restaurant, we've been helping our clients give their customers an immersive experience every time they step through the doors for decades. But it goes deeper than meeting consumer expectations.
Hirsch creates an experience for every one of our clients they won't get anywhere else. Here's what the Hirsch experience looks like:
Dedicated, Long-term team members
From the beginning, Hirsch Construction Corp. has fostered a culture of hardworking, dedicated professionals with a retention rate like no other. Employees start at Hirsch and stay at Hirsch, including key team members who have been with the company since the beginning.
Proven Process
We don't have to reinvent the wheel with every project. We're professional from the onset. There's no downtime, no guessing; we know the right questions to ask, and we get the job done faster. Our proven process begins and ends with top-tier execution and expert project management.
Customer Loyalty
Our original guiding principal: Truly care about your clients and their projects and they'll be repeat customers. 95% of our volume is repeat business.
National Footprint
With four offices across the U.S., our national presence allows us to provide our clients with a range of services most companies cannot, facilitating everything from prototypes to high-profile flagships.
Sometimes an experience is just another experience. But we take the word seriously. With that, we'd like to suggest a third definition to the word experience. The Hirsch definition:
Purposeful desire to exceed customer expectations in a personalized manner that creates loyalty, delivers expert service, builds relationships, and responds to the new ways of how and where people spend their time.
Is your brand ready to give your customers an engaging, memorable experience? Hirsch Construction Corp. can help make that happen. Contact us today.