Hirsch Construction Corp awarded the 2019 Preservation Achievement Award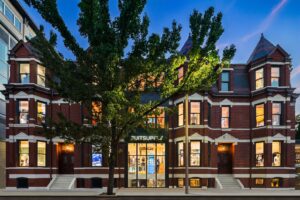 The historic building known as 240A Newbury Street in Boston has new life and a new tenant. It's also a Boston Preservation Alliance 2019 Preservation Achievement Award Winner. Hirsch is honored to have been the builder for the 2018 project, teaming the architects at Atmosphere Design Group and SuitSupply the global premier apparel brand to completely renovate the four-story building to a luxury finish.
The 9,000 square foot project is SuitSupply's flagship retail space, featuring a basement level luxury café and bar. This is the brand's 100th location and sits in the heart of Boston's premier retail district.
240A Newbury Street was originally built in 1880 as two residential brownstones that were combined in the 1960s. Over the decades, the building had fallen into disrepair, until UrbanMeritage purchased it in 2014 and worked to rehabilitate the structure, sensitively meshing the old with the modern.
The project was under construction for 24 weeks, and as with most preservation projects, coordinating the nuances of historical buildings and architectural design with the European design and millwork firms was not without challenges. Keeping with their policy of open communication and effective planning and coordination, Hirsch Construction Corp. and the entire team thoroughly navigated any construction challenges and was able to deliver an exciting and remarkable retail location to SuitSupply.
The retail location reflects the energy and flair that the retailer brings to tailoring, including outstanding design features like the remodel of a bar/lounge incorporated into the retail environment where customers can enjoy a drink while waiting for their custom suits to be tailored.
Since 1983, Hirsch Construction Corp. has brought to life some of the most exciting locations for the nation's best brands. They are honored to receive the recognition from the Boston Preservation Alliance and recognize the effort of everyone involved on the project team.
The owner/developer is UMNV 240A Newbury. The architect is LLC. Elkus Manfredi Architects.
The project team included Abbas Woodworking, AKF, Atmosphere Design Group, Authentic Designs, CBI Consulting Inc., Dennis T. Mitchell Architects, Gilbert & Becker Co., Inc., Howard Stein Hudson, J.L. Dunn (GC), Kalin Associates, McPhail Associates, LLC, SuitSupply and UrbanMeritage, LLC.